"The most effective way to exercise your brain is to exercise your body." David Bardsley
MY WAKE UP CALL
"13 years ago at the age of 58 , I had my 1st embarrassing senior's moment in a grocery store just 2 weeks after my mother was diagnosed with Alzheimer's."
What people are saying about
Smarter Next Year : the 8 pillars to a younger, sharper mind TODAY !
SMARTER NEXT YEAR THE REVOLUTIONARY SCIENCE & 8 PILLARS TO A SMARTER, HAPPIER YOU
Contrary to accepted belief, YOU CAN INCREASE YOUR INTELLIGENCE AT ANY AGE! Smarter Next Year presents the latest scientific evidence for improving your mind and staying healthy at all stages of life. This inspirational book provides simple but eye-opening steps to lead you to a healthier and happier life.
This quick 1-hour read written by Dr. David Bardsley will change the way you think about your brain. The insightful brain hacks provided in this book give you a foundation of change for improving your health and mind.
The bottom line?
GENES DON'T CONTROL YOUR INTELLIGENCE. YOU DO!
Your brain ― and every brain ― is constantly evolving and changing. In fact, there are multiple scientifically proven paths to increasing your memory and IQ ― at any age ― through simple life changes.
Do you ever struggle to recall something you had just been thinking about moments ago? Or have an idea that was fresh in your mind become clouded before you can take action? Eliminate such issues for good using Dr. David Bardsley's simple 8-step program! No matter your age or cognitive abilities, by applying these scientifically proven tips, you can take steps to become smarter, sharper, and healthier ― NOW! Review " Smarter Next Year is the book you have been waiting for...[Bardsley's] explanations are clear and straight forward and he makes it easy to jump on the trampoline of what and how easy it will be if you are dedicated to keeping your mind sharp and clear. " - Boomer Times "One of the best self-help books you will read, if you can remember where you left the book!" - Canberra Weekly
About the Author For the past three years, retired dental surgeon Dr. David Bardsley has been a full-time professional speaker, helping individuals increase their cognitive ability and perform at their highest intellectual level. His primary audiences have been groups of CEOs who belong to several organizations including Vistage.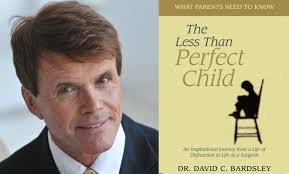 My personal story of being mis-diagnosed as mentally challenged …
Click book to order on Amazon. Growing up with a behaviourAL or learning disorder is never easy; not for the parents, not for the teachers, and especially not for the affected child. What will their future be? While growing up in the trenches of disfunctionality, institutionalized at age 8 and diagnosed as mentally retarded: a diagnosis his parents refused to accept. This story of hope and transformation will inspire and encourage the millions of troubled parents who worry about what the future holds for their "Less Than Perfect Child" and help those adults who have never been diagnosed, yet struggle daily with behavioUral and learning disorders.
The Less Than Perfect Child true story delivered in Denver, Colorado